FCNews 2021年5月Megan Salzano报道:
2020年美国弹性类别持续流行,销售额为65.89亿美元,销售量为54.55亿平方英尺,比2019年分别增长21.3%和19.5%。
主要由刚性芯/SPC子市场引领。
这一积极势头直接归功于该品类的性能、安装方便性和入门级成本,以及流感大流行加速了消费者习惯的改变。
* 新冠流行使得消费者居家时间越来越多,加快了房屋更新和装修的需求
* 易安装性,可快速周转,满足装修市场需求
* 视觉设计继续改进,并与真正的硬木、瓷砖和天然石材的外观相抗衡
* 产品价格具有竞争力
* 耐用性
* 防水性

* 一定的价值主张,即类似概念的推销和宣传

1. 住宅市场
2020年住宅市场占弹性总收入的73.3%,即48.47亿美元。就销售量而言,住宅弹性占出货面积的77.6%,即42.35亿平方英尺。

住宅市场的繁荣主要由两个细分市场推动:住宅改造和独栋新建筑
2. 住宅市场细分
尽管弹性LVT产品和WPC仍然占据了相当大的市场份额,但刚性芯/SPC再次占据了领先地位。FCNews研究显示,仅仅一年时间,住宅SPC以美元计就从总弹性住宅的30.8%增长到非常高的51.9%。
3. 商业市场
在商业市场方面,弹性类别(不包括橡胶)在2020年创造了17.42亿美元和12.22亿平方英尺的收入,低于2019年的17.71亿美元和11.83亿平方英尺。
主要是受到冠状病毒大流行的重创,酒店和零售领域表现低迷,不过医疗保健和教育仍将是未来推动销售的主要因素。
4. 商业市场细分
对于商业弹性市场,LVT仍然是主力军。弹性子类别(包括弹性和刚性)占总销售额17.42亿美元中的72.8%,即12.68亿美元,占总销售量的61.2%。
弹性LVT(包括胶合、自吸和锁扣)占据了大部分,占弹性商业市场17.42亿美元销售额的61.6%,占总销售量的53.6%,比2019年同期的59.6%和50.2%有所上升。
5. 进口与国内
对中国征收25%的关税,导致部分供应链向中国以外的地区转移,包括东南亚以及美国本土,但是新冠疫情的大流行延缓了这种进度,且导致了持续的供应问题(包括原材料价格的上涨,集装箱短缺和严重的货运中断等等),不过在激增的市场需求面前,消费者对价格并不是很敏感,关税的影响也不是很大,在2020年的整体弹性地板蛋糕中,进口所占份额仍增长至81.5%,即53.91亿美元,而在2019年为78.1%。
具体内容详见下文:
虽然2020年并不寻常,但地板行业可以指望的一件事是:弹性类别的持续流行。不足为奇的是,主要由刚性芯/SPC子市场引领的弹性地板再次出现增长,而在2020年,许多其他地板类别并未出现增长。
While 2020 was anything but ordinary, there was one thing the flooring industry could count on: the continued popularity of the resilient category. It will come as no surprise that resilient—led mostly by the rigid core/SPC subsegments—once again registered gains while many other flooring categories in 2020 did not.
FCNews研究显示,2020年,该类别的销售额为65.89亿美元(不包括橡胶),比2019年的54.33亿美元增长了21.3%,处于行业领先地位。从销售量来看,该品类在第一个销售点的面积为54.55亿平方英尺(不包括橡胶),比2019年的45.64亿平方英尺增长了19.5%。
FCNews research shows the category generated $6.589 billion in sales (not including rubber) in 2020—an industry-leading 21.3% increase over 2019's $5.433 billion. In terms of volume, the category accounted for 5.455 billion square feet (not including rubber) at the first point of sale, a 19.5% increase from 4.564 billion in 2019.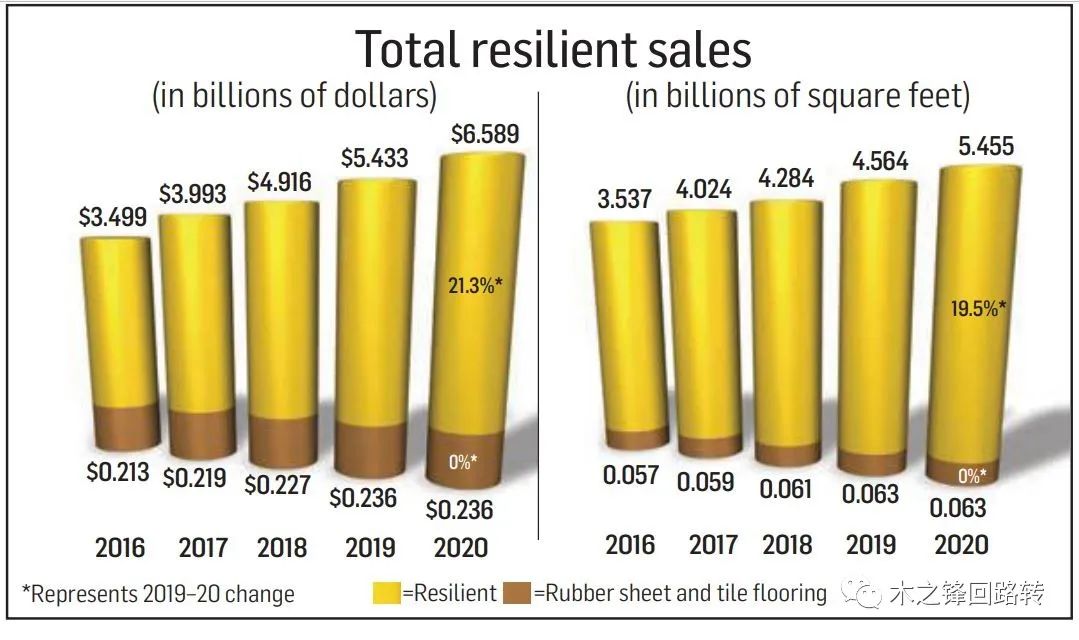 以硬表面市场衡量,弹性类别在2020年的强劲表现更为明显。与瓷砖、硬木、强化和其他硬表面材料相比,弹性材料占销售额的50.6%,而2019年为45.1%。如果将地板销售总额计算在内,弹性地板占总销售额的28.7%和销售量的28.8%,而去年分别为24.6%和24.2%。在过去的几年里,按美元计算,弹性地板的市场份额翻了一番多,按销售量计算,它的市场份额增加了近一半。
The resilient category's strong performance in 2020 is even clearer when measured against the hard surface market. When compared to ceramic tile, hardwood, laminate and other hard surface materials, resilient accounted for 50.6% of sales vs. 2019's 45.1%. When taking total flooring sales into account, resilient comprised 28.7% of dollars and 28.8% of volume, compared to last year's 24.6% and 24.2%, respectively. Over these last several years, resilient's share of the market has more than doubled in terms of dollars and increased by nearly half in terms of volume.
高管们表示,这一积极势头直接归功于该品类的性能、安装方便性和入门级成本,以及流感大流行加速了消费者习惯的改变。
This positive momentum, executives say, is directly attributed to the category's performance, ease of installation and cost of entry—as well as changing consumer habits accelerated by the pandemic.
要公正地分析2020年的弹性地板类别,不考虑COVID-19流行的后果是很困难的,这对于建筑材料或家装行业的任何产品类别来说都是事实。就地板行业本身而言,在美国大流行的早期阶段,由于封锁而形成的居家生活方式,虽然最初掀起了一股质疑的旋风,但却给下半年的销售带来了前所未有的提振。
To justly analyze the resilient flooring category in 2020, it would be difficult without looking at the consequences of the COVID-19 pandemic—a truth for any product category in the building materials or home improvement industries. For the flooring industry itself as a whole, the stay-at-home lifestyle created by the lockdowns during the early stages of the pandemic in the U.S., while initially setting off a whirlwind of doubt, gave an unprecedented boost to sales in the second half of the year.
供应商也同意,随着消费者在家中花费的时间越来越多,他们开始更快地指出这些房屋内需要的更新和装修。此外,消费者支出和财政储备传统上被指定用于旅游、休闲和娱乐——这些支出和储备在今年的大部分时间里一直被搁置到2021年,现在可以随时用于家庭装修。本质上,它创造了压倒性的需求。
Suppliers agreed, as consumers spent more time in their homes they began to more quickly point to updates and renovations needed within those homes. In addition, consumer spending and financial reserves traditionally earmarked for travel, leisure and entertainment— which were on hold for most of the year and into 2021—were now readily available to be put toward home renovations. In essence, it created overwhelming demand.
"COVID-19改变了动态,我们仍然看到后COVID-19,那里有一个令人难以置信的家庭装修业务正在发生,"Mannington住宅弹性副总裁David Sheehan表示:"很明显,有一种永不满足的驱动力,它直接关系到消费者希望改造的地方。在2020年下半年,几乎所有类别都出现了相当显著的增长,我们在2021年仍然看到同样的现象。"
"COVID-19 changed the dynamic, which we're still seeing post-COVID-19, where there is just an incredible amount of home improvement business taking place," said David Sheehan, vice president residential resilient, Mannington. "There clearly is an insatiable drive that is directly pandemic related where consumers are looking to remodel. Every category, for the most part, saw pretty significant growth for the second half of 2020, and we're still seeing that same phenomenon in 2021."
对于弹性类别而言,将现有空间改造为在家办公或在家学习所需的快速周转时间(无论购买流程如何)是一个额外优势。"锁扣弹性地板的特性使最终用户能够快速安装,"Mohawk 弹性产品管理副总裁Ed Sanchez说:"无论他们是自己安装还是请工人安装来将房间,他们都能够很快地完成,相较于瓷砖或硬木而言则是一个更长的过程。"
For the resilient category, the quick turnaround time needed to reshape existing spaces into work-from-home or learn-from-home areas—regardless of purchase process—was an added advantage. "The nature of click flooring in resilient really lends itself to the end user being able to make a quick transition," said Ed Sanchez, vice president of product management, resilient, Mohawk. "Whether they are updating the room themselves as a DIYer or using an installer, they are very quickly able to transition a room vs. tile or hardwood where it's a much longer process."
除了易于安装外,LVT细分市场的更新设计和性能也促进了该类别的增长。""硬芯乙烯基产品为消费者提供了许多机会,"Wellmade Performance地板销售和营销高级副总裁Richard Quinlan解释到:"整个LVT类别的视觉设计继续改进,并与真正的硬木、瓷砖和天然石材的外观相抗衡,且产品价格更低。弹性地板的易安装性和耐用性的优点使价值机会更加完美,因此购买LVT是一个非常合理的选择。"
In addition to its ease of installation, updated designs and performance within the LVT segment have contributed to the category's growth. "Rigid core vinyl products offer the consumers a number of opportunities," explained Richard Quinlan, senior vice president of sales and marketing, Wellmade Performance Flooring. "Visual designs throughout the LVT category continue to improve and rival the look of real hardwood as well as tile and natural stone, all at lower prices than the real thing. Ease of installation and the benefit of durable resilient flooring round out the value opportunity, making the decision to buy LVT a very logical choice."
弹性地板及其细分市场的一个主要优点是防水性能。Shaw Industries硬表面产品和品类管理副总裁Drew Hash解释说:"Piet Dossche(USFloors和COREtec品牌的创始人)发现了一些真正能引起消费者共鸣的东西,那就是防水。很明显,这就是为什么'弹性'之所以成为现在这样的一个重要原因,因为它有防水的故事可讲。"
A major benefit of resilient flooring—and a subsegment of its performance—is its waterproof claims. "Piet Dossche [founder of USFloors and the COREtec brand] found something that really resonated with the consumer, which was waterproof," explained Drew Hash, vice president hard surface product and category management, Shaw Industries. "Obviously, that has been a big part of why resilient has become what it has, because of that waterproof story."
Drew Hash接着补充到,"虽然防水是增长的驱动力,但该品类的价值主张(即a.k.a.定价)同样重要。在过去的12个月里,很多进入市场的消费者都是首次购房者和首次改造者;从住宅的角度来看,这一类别为什么会继续增长,这一点肯定会引起共鸣。"
Hash went on to add that while waterproofing is a driver of growth, the category's value proposition—a.k.a. pricing—is equally important. "A lot of the consumers who entered the market over the last 12 months were first-time buyers and first-time remodelers," he said. "What you get for what you pay for certainly resonates as to why the category continues to grow from a residential perspective."
供应商也同意,该类产品在消费者中的知名度以及RSAs的接受度都有所提高。"Mannington的Sheehan说:"我想你已经看到了过去几年的变化,消费者现在意识到了这一类别,他们会说'防水地板'之类的话。在许多情况下,我确信消费者会被木头或石头吸引,然后他们会走进商店,离开购买刚性/LVT离开。因为他们正处于每五到七年购买一个楼层的周期,他们不了解业务,他们信任RSA;而RSA正以防水和刚性地板的概念大肆推销它们。RSAs对推动这一增长的类别充满了兴奋和热情。"
Suppliers also agree that the category has grown in terms of awareness among consumers as well as in acceptance by RSAs. "I think you've seen a shift in the last couple of years where consumers are now aware of the category and they'll say things like 'waterproof flooring,'" Mannington's Sheehan said. "In many instances, I'm convinced that consumers will gravitate toward wood or stone and then they will go into the store and they will leave buying rigid/LVT. Because they are in the buying cycle for a floor every five to seven years, they don't know the business and they trust the RSA; and the RSA is so aggressively selling them on the notion of waterproof and rigid flooring. There is excitement and enthusiasm that RSAs have for the category that is driving some of that growth."

住宅
Residential
FCNews research显示,2020年住宅市场占弹性总收入的73.3%,即48.47亿美元。就销售量而言,住宅弹性占出货面积的77.6%,即42.35亿平方英尺。
FCNews research shows the residential market made up 73.3% of total resilient revenue or $4.847 billion in 2020. With respect to volume, residential resilient accounted for 77.6% of square footage shipped or 4.235 billion square feet.
住宅板块在很大程度上受到房地产市场繁荣的支撑。根据美国住房和城市发展部和美国人口普查局的报告,2020年的住房开工总量比2019年的129万套增长了7%,达到了2020年的138万套。单户开工99.1万户,比上年增长11.7%。2020年,多户家庭开工总量为38.9万户,比上年下降3.3%。
The residential segment was supported in large part by the boom in the housing market. Total housing starts for 2020 experienced a 7% gain over the 1.29 million unit total from 2019 to 1.38 million in 2020, according to a report from the U.S. Department of Housing and Urban Development and the U.S. Census Bureau. Single-family starts totaled 991,000, which was up 11.7% from the previous year. Multifamily starts in 2020 totaled 389,000, down 3.3% from the previous year.
美国全国房屋建筑商协会(NAHB)的数据显示,现房销售增长至564万套,较2019年增长5.6%,创下大萧条以来的最高纪录。
Existing home sales grew to 5.64 million units, up 5.6% from 2019 and the highest total since the Great Recession, according to the National Association of Home Builders (NAHB).
大部分活动是由住宅LVT(包括胶合式、自由锁扣式、自吸式、SPC和WPC)推动的,预计2020年产生42.5亿美元的收入。就交易量而言,住宅LVT占28.55亿平方英尺。相比之下,2019年分别为36.57亿美元和33.8亿平方英尺。
The bulk of the activity was driven by residential LVT (including glue down, flexible click, loose lay, SPC and WPC), which generated an estimated $4.25 billion in revenue in 2020. In terms of volume, residential LVT accounted for 2.855 billion square feet. That's compared to $3.657 billion and 3.38 billion square feet in 2019, respectively.
有两个细分市场推动了这一指数式增长:住宅改造和独栋新建筑。供应商们一致认为,独户家庭是2020年最耀眼的明星。"我们看到了独户家庭的成长,在某些情况下,分享了硬木、瓷器和瓷砖等其他类别的部分市场,"Shaw的Hash解释道:"这一住宅改造/独栋新建筑经历了令人难以置信的几年,尤其是在这一特定类别中。"
Two market segments helped drive that growth exponentially: residential remodel and single-family new construction. Suppliers agreed single-family was the shining star in 2020. "We saw single-family grow, and in some cases that did take share from other categories—hardwood, porcelain and ceramic tile are good examples of that," Shaw's Hash explained. "That residential remodel/single-family new construction had just incredible years, and especially in this particular category."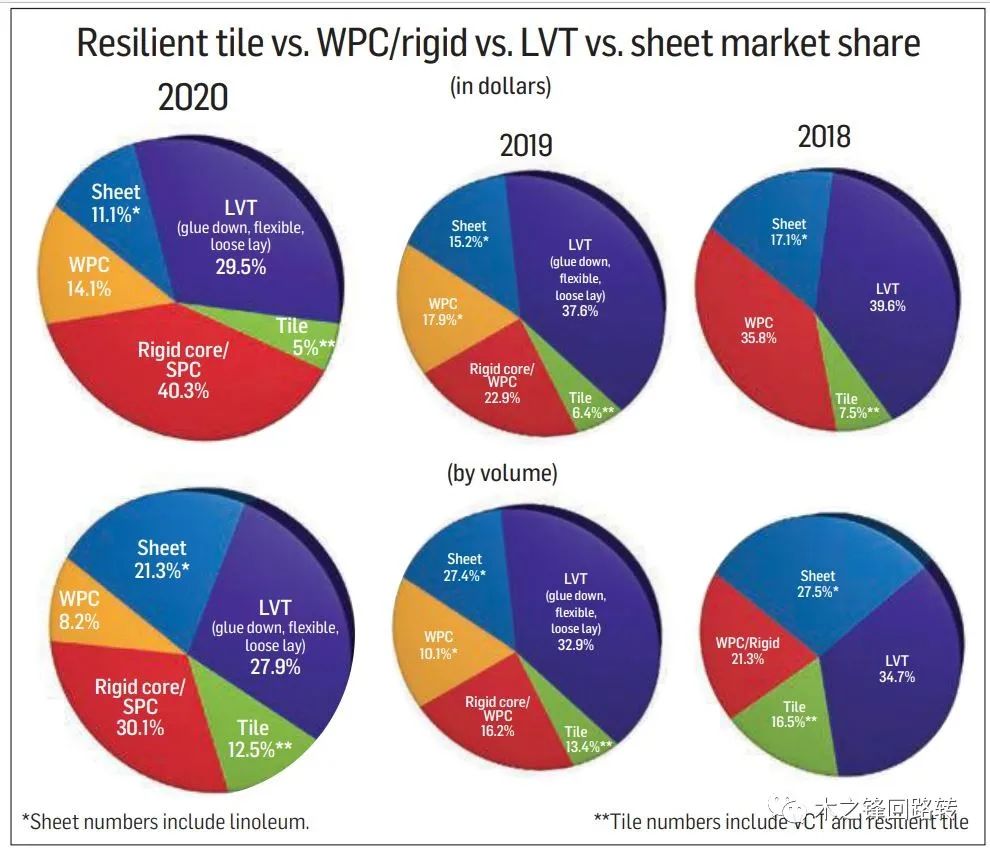 住宅分类
Residential breakdown
尽管弹性的LVT产品和较新的WPC仍然占据了相当大的市场份额,但硬芯/SPC再次占据了领先地位。FCNews研究显示,仅仅一年时间,住宅SPC以美元计就从总弹性住宅的30.8%增长到非常高的51.9%。就其所处的LVT领域的领导地位而言,2020年从37%增长到惊人的59.2%。以美元计算,2020年LVT市场42.5亿美元中,它创造了25.16亿美元。
While flexible LVT products and the newer WPC still command decent shares of the market, it was rigid core/SPC that again took the lead. In just one year, FCNews research shows residential SPC grew from 30.8% in total resilient residential dollars to a whopping 51.9%. In terms of its command of the LVT segment in which it resides, 2020 saw an increase from 37% to a staggering 59.2%. In terms of dollars, it generated $2.516 billion of the LVT market's $4.25 billion in 2020.
供应商同意,LVT的SPC细分市场是由其三个主要特征支撑的——性能、美观和入门价格。"其标志是弹性地板的防水特性,但也与行业在顶级涂层技术上的投资有关,该技术具有耐刮擦和耐污性能,使您拥有逼真的木材外观,低光泽解决方案,这在过去是没有实现的,甚至优于市场上的一些强化板,"Mohawk的Sanchez解释道:"条状的地板也更容易安装,且能以合理的价格买到这些产品。总的来说,这是一个卓越的产品。"
Suppliers agree the SPC subsegment of LVT is propped up by its three main features— performance, aesthetics and price of entry. "The hallmark is the waterproof nature of resilient flooring but it's also about the investment the industry has made in top coating technologies that have scratch and stain resistance—which gives you a realistic wood-look, low-gloss solution that has not been achieved in the past and even outperforms some laminates in the marketplace," Mohawk's Sanchez explained. "The planks are also easier to install. You get all that at a great price point. All around, it's just a superior product."
阿姆斯壮地板公司负责产品和创新的高级副总裁David Thoresen表示同意。"SPC类别远远超过了我们认为可以实现两位数增长的水平。SPC已得到消费者和安装商的一致认可。安装人员喜欢锁扣系统,这种系统可以让安装过程快速进行,而且索赔很少,而消费者则喜欢不断改进的设计和耐用性。"
David Thoresen, senior vice president, product and innovation, Armstrong Flooring, agreed. "The SPC category far exceeded where we thought we could go with double-digit growth. SPC has been endorsed by consumers and installers alike. Installers love the click system that makes the installation go quickly with very few claims, while consumers love the ever-improving designs and durability."

对Novalis来说,这种说法是一样的。战略客户总Nate Hohhenstein说:"在SPC建设中,以符合每个预算的价格获得基本上任何视觉效果的能力使它如此受欢迎。该行业的印刷和精加工能力创造了一种产品,消费者认为这种产品在安装时是'真正的木材';然而,却没有真正的木材表面所所面临的挑战,如划痕,凹痕,防水等。"
For Novalis, the claim is the same. "The ability to get essentially any visual in SPC construction at a price that fits every budget makes it so popular," said Nate Hohenstein, director of strategic accounts. "The printing and finishing capability in the industry has created a product that consumers believe is 'real wood' when it is installed; however, without all the challenges real wood faces—scratch, dent, water, etc."
供应商还注意到,虽然其他类别,如强化板,甚至SPC的WPC姐妹子细分市场都鼓吹厚度的重要性,SPC能够以较薄的厚度提供优越的性能特点,这有助于降低成本,不仅在产品的价格,而且在运输及安装方面。
Suppliers also noted that while other categories like laminate and even SPC's WPC sister subsegment tout the importance of thickness, SPC is able to provide superior performance features at a smaller thickness, which helps reduce costs in not only the price of the product but in shipping and transportation as well.
SPC的另一个好处是它正在进行的核心进化。制造商继续创新其核心结构,一些开发镁和其他材料的核心,以增加强度。"MgO已经带来了一个额外的耐用性和韧性水平的产品,这类产品更难订购。"Hohenstein解释说。
Another boon to SPC is its ongoing core evolution. Manufacturers continue to innovate its core structure, some developing cores with magnesium and other materials to add strength. "MGO has brought an additional level of durability and toughness with a product that is even more difficult to indent," Hohenstein explained.
另一方面,WPC继续下滑,住宅销售下降7.1%,2020年仅占48.47亿美元总额的18.3%,而上年为25.4%。
WPC, on the other hand, continued its downward trajectory with a 7.1% decline in residential sales with just 18.3% of the total $4.847 billion in 2020 vs. 25.4% the year before.
供应商也同意,它正在被其姊妹子市场SPC蚕食。"我继续看到WPC的衰落,"Mohawk的Sanchez说:"纵观整个制造业的投资,真的没有任何WPC的投资。了解到有更高的残余压痕风险,我认为投资全球,甚至改造现有的工厂,转向于SPC。"
Suppliers agree it is being cannibalized by its sister subsegment, SPC. "I continue to see WPC declining," Mohawk's Sanchez said. "As you look across investment in manufacturing, there really isn't any in WPC. With the understanding that you have a higher risk of residual indentation, I think the investment globally—and even retrofitting existing plants—is toward SPC."
Mannington的Sheehan也同意这一观点,但他指出,尽管WPC失去了市场份额,但该公司在市场上仍保持着相关性。"我想说,毫无疑问,SPC的增长速度比WPC快,但别忘了WPC仍然非常庞大。在我看来,去年可能是50/50,而今天是60/40,支持SPC。WPC确实在谈判桌上有一席之地;它更厚,更舒适,更安静。像Mannington和COREtec这样的公司从拥有这样的产品中获益。"
Mannington's Sheehan agreed, but noted WPC's continued relevancy in the market despite its loss of share. "I would say, undoubtedly, SPC is growing faster than WPC, but don't forget that WPC is still extremely large," he explained. "As I look at it, last year it was probably 50/50 and today it's 60/40 in favor of SPC. WPC does have a seat at the table; it's thicker, more comfortable and quieter underfoot. Companies like Mannington and COREtec benefit from having a product like that."
谈到WPC,Shaw的Hash坚持说,它是COREtec的"面包和黄油"。"在我们的刚性类别中它仍然是我们的旗舰产品,并且它继续增长。与其他产品相比,从它的价值,安静,温暖和设计等方面,WPC都有很多的故事可以讲。我们看到SPC的增长更多的是在入门级价位上。"
When it comes to WPC, Shaw's Hash maintains that its COREtec's bread and butter. "It's still our flagship product within our rigid categories and it continues to grow," he said. "It has a great story when compared to other products from its value, quietness, warmth and design. We continue to see SPCs growth is more in the entry-level price points."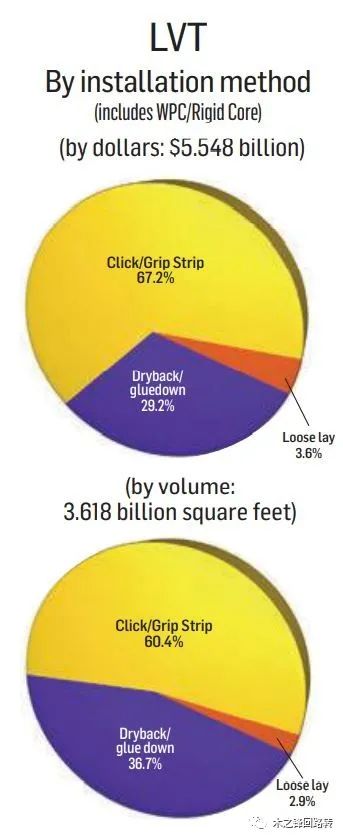 弹性的LVT(包括胶合、锁扣和自吸)在2020年略低于WPC,以住宅美元计算,其份额为17.5%。供应商同意,弹性的LVT仍然有自己的位置。Karndean Designflooring首席执行官Bill Anderson表示:"弹性的LVT(胶合和自吸)提供了比刚性更多的设计能力;2020年,LVT的所有领域(包括胶合和自吸)对我们来说都很强大。"
Flexible LVT (including glue down, click and loose lay) was slightly below WPC in 2020 with 17.5% share in terms of residential dollars. Suppliers agree flexible LVT still has its place as well. "Flexible LVT (glue down and loose lay) offers much more design capabilities than rigid," said Bill Anderson, CEO, Karndean Designflooring. "All areas of LVT [including glue down and loose lay] were strong for us in 2020."
Mohawk的Sanchez补充说,在多户型市场,弹性的LVT有一个强大的立足点,即安装的简易性和快速性,DIY友好性和易于更换。他解释说:"不管是用胶水粘合还是用锁扣,它都能让你快速打开多户住宅,让新住户入住。这个价值是[多户家庭]能够利用的。我还想说,从DIY的角度来说,如果你做的是二手房,灵活的LVT是相对容易自己做的,你真正需要的是一把实用刀来切割它。这也使得更换更加容易。但是,你并没有获得刚性核心SPC的一些性能优势。"
Mohawk's Sanchez added that flexible LVT has a strong foothold in the multifamily market due to its ease and speed of installation, DIY-friendly nature and easy replacement. "Whether it's glue down or click, it really allows you to turn the multifamily units fast and get new residents in," he explained. "There's a value there that [multifamily is] able to leverage. I would also say, from a DIY perspective, that if you're doing a secondary room, flexible LVT is relatively easy to do on your own, all you really need is a utility knife to cut it. It also makes replacement much easier. But you don't get some of the performance benefits of a rigid core SPC."
供应商还表示,2020年出现的供应挑战可能导致一些消费者转向弹性的LVT类别以及其他非刚性选项。"在某些情况下,当消费者正在寻找某种视觉,这是她的头号驱动力,她不在乎它是WPC,SPC或胶合类LVT,"Mannington的Sheehan说:"交货期已经延长,但消费者现在想买。他们将购买任何可得的[弹性地板]以便使他们的家庭尽快更新。这是一个非常有趣的动态。"
Suppliers also said supply challenges that occurred in 2020 may have led some consumers to the flexible LVT category—as well as other non-rigid options. "In some instances, when the consumer is looking for a certain visual, which is the No. 1 driver for her, she doesn't care whether its WPC, SPC or glue down," Mannington's Sheehan said. "Lead times have been extended but consumers want to buy now. They will buy any and all [resilient flooring] that is available to make their change. That's been a very interesting dynamic."
从数据上看,整体住宅弹性美元销售中的住宅薄片市场出现亏损,为刚性产品的指数增长腾出了空间。2020年住宅弹性销售总额为48.47亿美元,薄片占总销售额的9.3%,从5亿美元降至4.5亿美元。
Looking at the data, residential sheet registered a loss in terms of overall residential resilient dollar sales to make room for rigid's exponential growth. Sheet claimed 9.3% of the overall $4.847 billion residential resilient dollar sales in 2020, dropping from $500 million to $450 million.
然而,供应商一致认为,住宅用乙烯薄片受益于2020年出现的需求激增,引导消费者购买任何和所有可用的防水弹性产品。虽然它在市场份额或销售额方面没有取得增长,但它确实在消费者心目中重新抬头。Sheehan说:"在过去的10年里,像片状乙烯基这样的类别一直在下降,但我们看到了片状乙烯基在2020年的增长。""我把薄片和弹性LVT的增长归因于持续的压倒性需求和供应短缺。"阿姆斯壮的Thoresen同意这一观点,并补充道,"将好处并排排列,薄片仍然是一个非常好的产品,并且越来越好看。"
However, suppliers agreed that residential sheet vinyl benefited from the boom in demand that occurred in 2020 directing consumers to any and all waterproof resilient products that were available. While it didn't register gains in terms of market share or sales, it did gain resurgence in the minds of consumers. "Categories like sheet vinyl have been on the decline over the last 10 years, but we saw growth in sheet vinyl in 2020," Sheehan said. "What I attribute both sheet and flexible LVT growth to is the continued overwhelming demand and a shortage of supply." Armstrong's Thoresen agreed, adding, "Lining up the benefits side by side, sheet is still a wonderful product that just keeps getting better looking."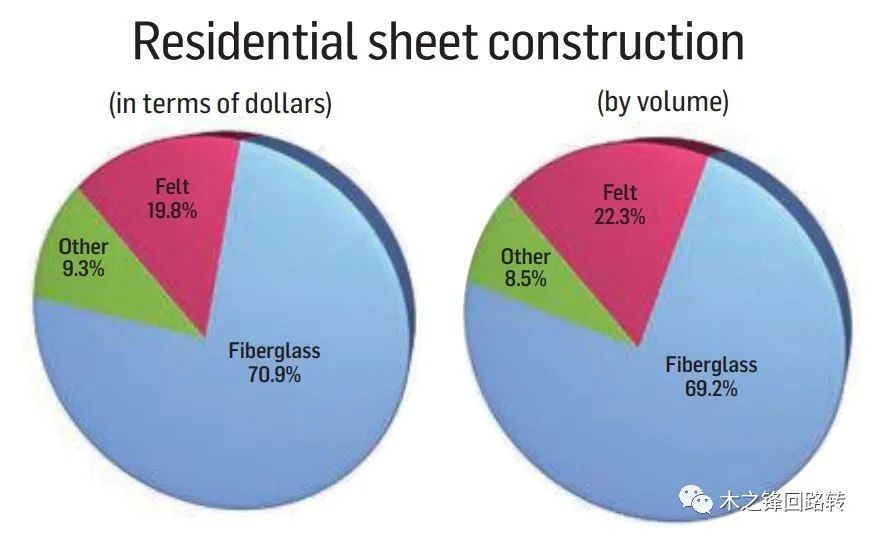 商业
Commercial
在商业市场方面,弹性类别(不包括橡胶)在2020年创造了17.42亿美元和12.22亿平方英尺的收入,低于2019年的17.71亿美元和11.83亿平方英尺,尽管考虑到这是一个大流行年,这一数字有了很大的进步。
When it comes to the commercial market, the resilient category (not including rubber) generated $1.742 billion in dollars and 1.222 billion in square feet in 2020. That is down from $1.771 billion in dollars and 1.183 billion square feet in 2019, albeit great strides considering it was a pandemic year.
业内专家表示,主要商业市场受到冠状病毒大流行的重创,总体上看,并没有像2020年住宅市场那样迅速复苏。医疗保健和酒店业尤其面临限制和项目延期的问题。
Industry experts said key commercial market segments were hit hard by the coronavirus pandemic and overall did not see the same speedy recovery the residential market did in 2020. Healthcare and hospitality in particular struggled with limitations and project postponements.
肖氏工业公司(Shaw Industries)负责商业硬表面产品和品类管理的副总裁Rick Morris告诉《金融时报》记者:"由于COVID-19对许多细分市场的影响,商业市场在2020年没有像住宅市场那样迅速反弹。至于零售和酒店等依赖亲身体验的细分市场,持续的不确定性和业务的突然下降,可以理解,减缓了2020年投资或升级地板的愿望。"Mannington商业橡胶、薄片分销副总裁Al Boulogne表示同意,并指出,"住宅市场出现了V型复苏,它消失了,恢复得非常快,然后增长超出了我们的预期。商业复苏更像是U型复苏。与我们的预期相比,2020年是下降的一年,但它最终是比我们预期的更好的一年。"
"The commercial market did not bounce back as readily as the residential market in 2020 due to the impact of COVID-19 on many of the market segments," Rick Morris, vice president of commercial hard surface product and category management, Shaw Industries, told FCNews. "With respect to segments like retail and hospitality that depend upon in-person experiences, the persisting uncertainty and sudden drop in business, understandably, slowed any desire to invest in or upgrade flooring in 2020." Al Boulogne, vice president, commercial rubber, sheet distribution, Mannington Commercial, agreed, noting, "Residential saw a V-shaped recovery—it went away and recovered very quickly and then grew beyond our expectations. Commercial is more of a U-shaped recovery. 2020 has been a down year vs. our expectations, but it ended up being a better year than what we had expected."
美国Biltrite地板部北美销售副总裁Scott Brazinski表示,他预计未来几年的增长将有所不同。"重新思考工作环境将推动改造项目;学校和医疗保健业务应保持稳定。我们还预计,建筑业将向人口较少的城市地区转移,因为这种流行病使工人能够证明他们可以远程工作,这将导致大城市向其他地区的去密度化。"
Scott Brazinski, vice president of sales, North America, Flooring Division, American Biltrite, said he expects growth to be different in the coming years. "Rethinking the workplace environment will drive renovation projects; school and healthcare business should remain stable. We also expect a shift in construction toward less populated urban areas as the pandemic allows workers the ability to prove they can work remotely—which should lead to a dedensification of major cities to other areas."
Karndean的Anderson指出,随着2020年的结束,商业市场的势头慢慢恢复。"随着该国开始从流感大流行中缓慢反弹,我们开始看到更多被搁置的项目卷土重来,预算得到批准。这些工作大多是商业性质的,是胶合或自吸的机会。"
Karndean's Anderson noted that as 2020 came to an end, momentum slowly returned to the commercial market. "As the country starts to slowly rebound from the pandemic, we are starting to see more projects come back that were put on hold and budgets being approved. Much of this work, being commercial in nature, are glue-down or loose lay opportunities."
业内专家表示,零售业和酒店业在2020年受到的冲击最大。医疗保健是一个值得关注的领域,因为上半年该行业的项目严重减少,但在年底前迅速恢复。教育中发生的事情分为高等教育和K-12。
Industry experts said retail along with hospitality took the biggest hit in 2020. Healthcare was an interesting segment to watch as it experienced a severe drop-off in projects in the first half but then a quick return before the year ended. What happened in education was segmented between higher education and K-12.
对于Karndean,Anderson表示,医疗保健和教育在2020年仍将是推动销售的因素,但酒店和零售领域表现低迷。"[这]只是基础经济学;医疗保健和教育设施仍然需要资金来支持地板活动;许多零售业和酒店业都在努力保持自己的大门敞开,并受到人们不去旅游和将钱花在其他领域的影响。"
For Karndean, Anderson said healthcare and education continued to be sales drivers in 2020 but the hospitality and retail segments were sluggish. "[It's] just basic economics; healthcare and education facilities still had a need for and the funds to support flooring activities; many retail and hospitality businesses were fighting to keep their doors open and were impacted by people not traveling and spending their money in other areas."
谈到教育,商业供应商一致认为,K-12最能经受住这场风暴。Forbo北美/亚洲区总经理Denis Darragh解释说:"K-12教育的结构比其他教育更独特,因为它的资金模式。每个问题的答案都是钱。你看,他们的资金流没有受到影响。因此,为公共建设提供资金的债券已经到位。高等教育内部发生了动乱。私人教育在接近年底时表现良好,与今年下半年股市的表现一样,他们的杯赛也结束了。"Shaw's Morris同意这一点,并指出该板块今年可能会反弹。"正如我们在2021年已经开始看到的那样,国家推动学校重新开放的努力正在积极影响教育领域的业务。"
When it comes to education, commercial resilient suppliers agreed it was K-12 that weathered the storm best. "K-12 education is more uniquely structured than the others because of how it's funded," explained Denis Darragh, general manager, North America/Asia, Forbo. "The answer to every question is always money. When you look at it, their funding stream was left unaffected. So, the bonds were in place that were financing the public construction. Within higher education there was turmoil. Private did well toward the end of the year—with what the stock market did in the second half of the year, their cup runneth over." Shaw's Morris agreed, noting the segment will likely bounce back this year. "As we're already beginning to see in 2021, the national push to get schools ready for reopening is positively impacting business in the education segment."
说到医疗保健,Mannington商业公司的Boulogue补充说:"我们肯定看到了快速放缓,因为他们没有时间或资源在流感大流行初期进行改造,但是,这些机会通过正在投资的弹出式设施或选择性设施慢慢地、然后更快地变得可用。"
When it comes to healthcare, Mannington Commercial's Boulogne added, "We definitely saw a quick slowdown because they didn't have the time or resources to remodel during the beginning of the pandemic, but slowly and then more rapidly those opportunities became available—through pop-up facilities or elective facilities that were being invested in."

其他供应商也认为,医疗保健在今年下半年出现了反弹。"从2020年末到2021年初,急性医疗保健和生命科学/生物医学实验室显示出最大的增长潜力,"Tarkett North America高级产品总监Adrienne Roseman解释道总的来说,我们对来年感到乐观,因为世界在克服这一流行病带来的经济挑战方面出现了转机。"
Other suppliers agreed that healthcare saw a bounce back in the second half of the year. "Beginning in late 2020 and into the beginning of 2021, acute healthcare and life science/biomedical labs were showing the greatest potential for growth," explained Adrienne Roseman, senior product director, Tarkett North America. "Overall, we are optimistic about the coming year as the world turns a corner in overcoming the economic challenges brought on by the pandemic."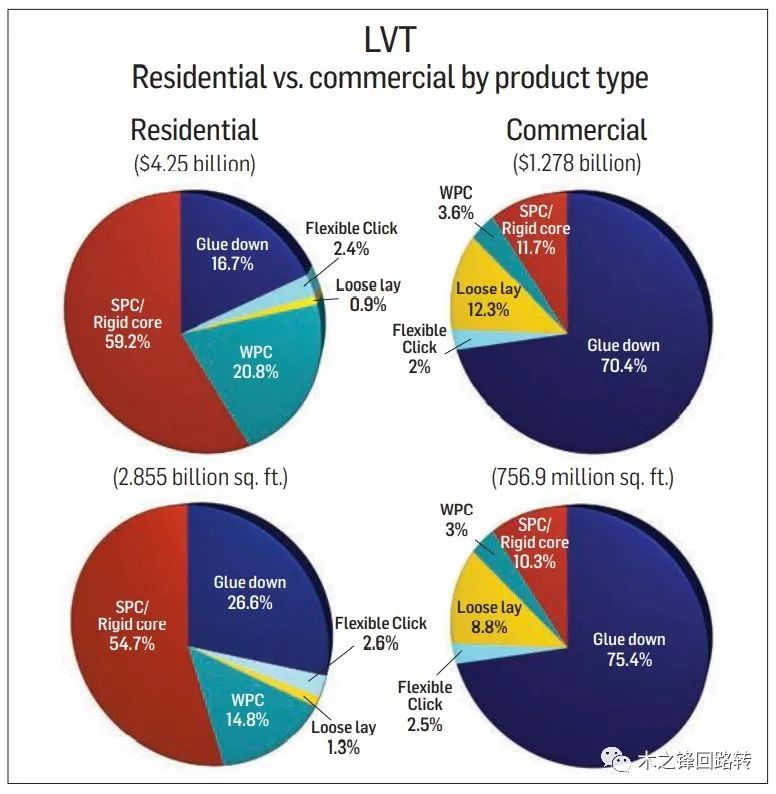 商业分类
Commercial breakdown
对于商业弹性市场,LVT仍然是主力军。弹性子类别(包括弹性和刚性)占总销售额17.42亿美元中的72.8%,即12.68亿美元,占总销售量的61.2%。按美元计算,这大约是4%的增长,而2019年的美元增长率为68.7%,销售量同比增长约4%。
For the commercial resilient market, LVT is still the go-to workhorse. The resilient subcategory (including flexible and rigid) accounted for 72.8%, or $1.268 billion, of the $1.742 billion in overall sales and 61.2% of its total volume. That is roughly 4% growth in terms of dollars from the 68.7% it experienced in overall dollars in 2019 and roughly 4% growth in volume from the year prior.
FCNews研究显示,弹性LVT(包括胶合、自吸和锁扣)占据了这一活动的大部分,占弹性商业市场17.42亿美元销售额的61.6%,占总销售量的53.6%。这比去年同期的59.6%和50.2%有所上升。
FCNews research shows flexible LVT (including glue down, loose lay and click) accounted for the bulk of that activity with 61.6% share of the resilient commercial market's $1.742 billion in sales and 53.6% of its overall volume. That's up from 59.6% in dollars and 50.2% in volume in the year prior.
供应商在2020年达成一致,LVT在教育领域大放异彩,项目继续向前发展。"我们看到教育领域的LVT越来越多,而且这种趋势还在继续,"Mannington商业LVT副总裁Whitney LeGate表示:"有些学校只是想尝试一些新的东西。他们试图简化他们的维护和性能,而地毯不耐脏,LVT可以很容易地更换。LVT也让他们在设计方面有了很多的空间。我认为所有这些结合在一起,使LVT成为一个不错的替代选择。"
Suppliers agreed in 2020 LVT shined in the education segment where projects continued to move forward. "We see more LVT in education and that trend is continuing," said Whitney LeGate, vice president, commercial LVT, Mannington Commercial. "Some schools just want to try something new. They are trying to streamline their maintenance and performance, and while carpet can stain, LVT can be easily replaced. LVT also lets them do a lot with design. I think all of those things come together to make LVT a nice alternative choice."
与传统的软表面选择相比,高级护理和酒店业也正在经历向弹性产品的转变,即使这些领域在2020年不那么活跃。"我们看到所有高级护理都在继续从纺织产品向弹性产品转变,"Forbo的Darragh解释道:"这一趋势已经持续了一段时间,它肯定不会放缓,可能会加速。我们也看到酒店业(主要是客房业)继续朝着更具弹性的解决方案发展,因为我认为2020年只会增加对健康和卫生的关注。你已经在住宅板块看到了。"
Senior care and hospitality are also experiencing a shift toward resilient products vs. traditional soft surface choices—even if those segments were less active in 2020. "We are seeing the continuing shift in all of senior care from textile products to resilient," Forbo's Darragh explained. "It has been a trend for a while, and it's certainly not slowing and may be increasing. We also do see the continued movement toward more resilient solutions in hospitality, mainly in guest rooms, because—and I think 2020 is only going to make this increase—of the concern for health and hygiene. You already see it in residential."
他补充说,虽然向硬表面的转变并不完全是在豪华乙烯基,"LVT是市场上的800磅大猩猩。"
He added that while the shift to hard surface is not exclusively in luxury vinyl, "LVT is the 800-pound gorilla in the market."
Karndean的Anderson表示同意,并指出弹性LVT在商业市场的持续主导地位。"弹性LVT(胶合和自吸)比刚性LVT提供了更多的设计功能,并且由于其完全附着在底层地板上,并且能够在需要时单独更换部件,因此在商业应用中具有更大的相关性。"
Karndean's Anderson agreed, noting the continued dominance of flexible LVT in the commercial market. "Flexible LVT (glue down and loose lay) offers much more design capabilities than rigid and has added relevance in commercial applications due to its full adherence to the subfloor and the ability to individually replace pieces, if needed."
与住宅市场不同,刚性芯WPC/SPC并未在商业市场占据一席之地。然而,与近几年相比,它确实在2020年取得了进展。FCNews研究显示,刚性芯从2019年的9.6%增长到2020年LVT商业总收入的11.2%。"刚性芯LVT在北美开始获得吸引力,我们在那里看到在商业领域的适应有些缓慢,"Tarkett的Roseman说:"我们特别看到了刚性芯在老年生活和高等教育领域的增长。刚性芯作为一个价格合理的高品质材料,是一个性能和价值都很好的解决方案。其寿命周期成本也相对较低,无需粘合剂以及最低维的护要求。"
Unlike its residential counterpart, rigid core WPC/SPC has not taken hold in the commercial market. However, it did gain ground in 2020 vs. recent years. FCNews research shows rigid core grew from 9.6% in 2019 to 11.2% of total LVT commercial dollars in 2020. "Rigid core LVT is starting to gain traction in North America, where we had seen some slowness to adapt in the commercial space," Tarkett's Roseman said. "We're specifically seeing rigid core grow in the senior living and higher education segments. Rigid core is an excellent solution for both performance and value as high-quality material at an affordable price. The life cycle costs are also relatively low, without the need for adhesive and minimal maintenance requirements."

主要的刚性芯供应商正在提出专门为激起商业市场兴趣而设计的创新。例如,Shaw推出了专为各个细分市场设计的SPC产品。"Shaw的Morris说:"我们新推出的美国制造、SPC平扣产品为许多商业领域提供了一个很好的解决方案,解决了当今环境中服务和安装时间表的关键问题。"
Major rigid core suppliers are bringing forward innovations designed specifically to pique the interest of the commercial market. Shaw, for example, has launched SPC products designed for various market segments. "Our new Made-in-America, SPC tongue-and-groove products are a great solution for many commercial segments, addressing key concerns with service and installation timelines in today's environment," Shaw's Morris said.
整体LVT板块的增长继续蚕食商业市场上的其他弹性地板板块,包括乙烯基复合瓷砖(VCT),该板块在2020年的美元和销量都有所下降。一年内,VCT在整体弹性美元中的份额从13.5%下降到10.8%,即1.914亿美元,2019年为2.395亿美元。就销售量而言,VCT从2019年的3.51亿平方英尺下降到2020年的3.42亿平方英尺,降幅为2.6%。
Growth in the overall LVT segment continues to cannibalize other resilient flooring segments in the commercial market including vinyl composite tile (VCT), which saw a drop in both dollars and volume in 2020. In one year, VCT went from 13.5% share of overall resilient dollars to 10.8%, or $191.4 million, in 2020 vs. $239.5 million in 2019. In terms of volume, VCT saw a 2.6% decline from 351 million square feet in 2019 to 342 million square feet in 2020.
尽管失去了份额,但供应商注意到VCT对市场的持续价值。"VCT在市场上的发展速度正在放缓,而且已经持续了好几年,它唯一的亮点就是价值,"阿姆斯特壮的Thoresen说:"在如此诱人的价位上,你还能在哪里买到100多种颜色?多种设计和非PVC选项将继续为该类别带来希望。"
Despite its loss of share, suppliers note VCT's continued value to the market. "VCT is slowing in the marketplace and has been for several years, and its sole bright spot is value," Armstrong's Thoresen said. "Where else can you have access to over 100 colors at such an attractive price point? Multiple designs and non-PVC options will continue to offer hope to the category."

FCNews research显示,橡胶在2020年的销售额和销售量都相对持平。Tarkett高级产品经理Jeff Robinette等高管表示,橡胶地板市场面临的大部分挑战与其他产品类别的挑战相似。他告知FCNews:"经济的不确定性让市场在一年的大部分时间里都像坐过山车一样。许多设计项目因与流感大流行有关而被搁置。一旦开了绿灯,材料订单往往会仓促下达,以使项目尽可能接近原定进度。材料供应都受到了影响,因为制造商已做出改变,以确保安全的工作环境。"
FCNews research shows rubber remained relatively flat in both dollars and volume in 2020. Executives like Jeff Robinette, senior product manager, Tarkett, said that most of the challenges faced in the rubber flooring market were similar to those within other product categories. "The uncertainty of the economy had the market on a bit of a roller-coaster ride for much of the year," he told FCNews. "Many design projects were placed on hold for a variety of reasons related to the pandemic. Once given the green light, material orders were often placed on a rush, in an effort to keep projects moving as close to their original schedule as possible. Material supplies have all been impacted as manufacturers have made changes to ensure a safe working environment."

从积极的方面来看,Robinette说,橡胶瓷砖地板在许多细分市场仍然是一个强有力的解决方案,"提供了一个舒适,易于维护的表面,具有强大的可持续性故事。这些都是我们的客户在大流行后的世界中寻找的特征。"
On a positive note, Robinette said rubber tile flooring remains a strong solution in many market segments, "providing a comfortable, easy-to-maintain surface with a strong sustainability story. These are all features our clients are looking for in a post-pandemic world.
American Biltrite的Brazinski进一步解释说,橡胶薄片地板主要是按照项目规格销售,销售周期长,而不是在受疫情影响最大的细分市场。"橡胶地板主要用于机构项目,而在零售、酒店和企业办公场所则没有那么多,这些地方在2020年受到的冲击最大。"
American Biltrite's Brazinski further explained that sheet rubber flooring is sold primarily on project specifications with a long sales cycle and not in the market segments most impacted by the pandemic. "Rubber flooring is mostly used by institutional projects and not as much in retail, hospitality and corporate offices, which were hit the hardest in 2020."
FCNews research显示,从2020年的1.951亿美元的整体弹性美元销售额来看,商业薄片占11.2%,而2019年为2.225亿美元。从销售量来看,商业薄片也出现了下滑,2020年为9650万平方英尺,而2019年为10655万平方英尺。
FCNews research shows commercial sheet commanded 11.2% in terms of overall resilient dollar sales to $195.1 million in 2020, compared to $222.5 million in 2019. In terms of volume, commercial sheet also felt a decline, registering 96.5 million square feet in 2020 vs. 106.55 million square feet in 2019.
虽然薄片在过去几年经历了下滑,但供应商指出,尽管2020年总体下滑,但压倒性的需求是其意外受欢迎程度的一个原因。供应商表示,一些商业部门选择薄片是因为它的价值、附加设计选项和供应优势。LVT受到了货运和运输挑战的沉重打击,这种挑战始于2020年,一直持续到2021年。供应商表示,这种薄片更容易获得,并越来越受到住宅市场的关注,这也可以解释其在商业领域的受欢迎程度。
While sheet has experienced declines over the past several years, suppliers pointed to overwhelming demand as a contributor to its unexpected popularity—despite its overall decline—in 2020. Suppliers said some commercial segments looked to sheet for its value, added design options and supply. LVT was hit hard by the freight and transport challenges that began in 2020 and have continued into 2021. Suppliers said sheet was more readily available and grew attention from the residential market and could explain its popularity in commercial as well.
薄片已经在多个细分市场找到了立足点,但供应商都认为医疗保健是其支柱。Shaw的Morris解释说:"在某些领域,片状乙烯基仍然是一种可行的解决方案,特别是在医疗保健领域,无缝产品具有一定的清洁优势。"
Sheet has found a home across multiple market segments, but suppliers agree healthcare is its mainstay. "Sheet vinyl remains a viable solution in certain segments, particularly healthcare where a seamless product provides certain cleaning benefits," Shaw's Morris explained.
Mannington商业的Boulugne补充到,在某些使用情况下薄片仍然可以与LVT抗衡。"薄片在医疗保健领域占有一席之地,我认为它永远不会被LVT所取代。手术室或病人室有很多生物危害暴露,你不想LVT在那里。这不是产品的正确应用。"
Mannington Commercial's Boulogne added that sheet continues to have a leg up against LVT in certain use cases. "Sheet has a place in healthcare that I don't think will ever be replaced by LVT. Operating rooms or a patient room that has a lot of biohazardous exposure you don't want LVT in there. It's just not the right application for the product."
在建筑方面,异质薄片的市场份额有所上升,从2019年的58.9%上升到63%(以美元计)。在销售量方面,异质薄片占商业板材市场的57.3%(以平方英尺计)。
In terms of construction, heterogeneous sheet saw some gains as it reached 63% of the market in terms of dollars vs. 58.9% in 2019. In terms of volume, heterogeneous accounted for 57.3% of the commercial sheet market in square footage.
Armstrong地板公司的Thoresen解释说:"同质地板让位于设计更好的异质地板,但由于其耐用结构的固有特性,同质地板在手术室、ICU和某些高流量区域仍有一席之地。"FCNews研究显示,油毡在2020年的美元销量额略有下降,但销售量相对持平,分别达到8700万美元和3500万平方英尺。
"Homogeneous gave way to its heterogeneous counterpart with better design, but homogeneous still has a place in operating rooms, ICUs and certain high-traffic areas due to the inherent nature of its durable structure," Armstrong Flooring's Thoresen explained. FCNews research shows linoleum experienced a slight decline in sales in 2020 but remained relatively flat in volume, reaching $87 million and 35 million square feet.
医疗保健和教育仍然是其核心商业市场,在2020年各自经历了不同的结果。"教育是上升的,医疗保健是下降的,这是其最大的两个部分,"Forbo的Darragh解释说:"医疗保健部门正在应对这种流行病;修缮设施的使用受到限制,其收入来源受到巨大影响,因此市场受到冲击。"
Healthcare and education remain its core commercial market segments, each experiencing different outcomes in 2020. "Education was up, healthcare was down—those are its two largest segments," Forbo's Darragh explained. "healthcare was dealing with the pandemic; there was limited access to facilities for renovations and their revenue streams were impacted dramatically, so the market took a hit."

他补充说,它还以自己独有的方式进入了多户住房领域,这是以前从未有过的。"这是(因为)健康主张,z 一代做的决定越多,产品就越有吸引力。它们对合成物更敏感。"
He added that it has also found its way into multifamily housing where it hasn't been before. "It's [because of] the health proposition," he noted. "The more gen z is making the decision, the more appealing the product is. They are much more sensitive to synthetics."
Darragh补充道:"对于商业市场的许多人来说,油毡仍然是一个可行的选择。如果你需要弹性地材,它有最低的成本优势。这是首要的也是最重要的。事实上,它是最可持续和健康的产品,从而吸引了人们的注意力。而且从耐久性的角度来看,它将胜过任何合成橡胶产品。"
Linoleum remains a viable option for many in the commercial market, Darragh added. "If you're going to go resilient, it has the lowest cost of ownership. That's first and foremost. The fact that it's the most sustainable and healthy product draws people in and gets their attention. And from a durability point of view, it will outperform any synthetic or rubber product."
进口与国内
Imports vs. domestic
有几个因素影响了弹性地板与其供应链之间的关系。传统上依赖进口的弹性品类供应商首次开始与传统抗争,是在2019年末,当对来自中国的大多数LVT产品(即弹性增长SPC)征收25%的关税时,它开始从中国向越南和柬埔寨等周边国家转移采购。
Several factors have impacted the relationship between resilient flooring and its supply chain. Traditionally import reliant, resilient category suppliers first began to struggle against tradition in late 2019 when a 25% tariff was slapped on most LVT products coming in from China, namely resilient's growth horse SPC. It began a shift in sourcing from China to nearby countries like Vietnam and Cambodia.
供应商们一致认为,关税本身并没有造成广泛的挑战,但引发了围绕美国国内生产的对话。阿姆斯特壮地板公司的Thoresen说:"我们认为,关税只在2020年造成了轻微的破坏。因为美国制造业开始发展,很可能是受到关税的推动。"
Suppliers agreed the tariffs themselves did not cause widespread challenges but ushered in conversations around domestic production. "We do not believe the tariff caused anything but a minor disruption in 2020," Armstrong Flooring's Thoresen said. "U.S. manufacturing was starting to evolve as well and was likely pushed along by the tariff."
到了2019年底和2020年初,一些总部位于美国的弹性生产商以及少数外国供应商宣布了增加或改造生产设施的计划,以将弹性生产带到美国。当2020年3月大流行来袭时,大多数这些外包计划被搁置;但围绕国内供应的对话仍在继续。
Come end of 2019 and early 2020 and several U.S.-based resilient manufacturers as well as a handful of foreign suppliers announced plans to add or retrofit production facilities to bring resilient production to the U.S. When the pandemic hit in March of 2020, most of those onshoring plans were put on hold; but the conversation around domestic supply continued.
今年晚些时候,集装箱短缺和严重的货运中断导致供应商、分销商和零售商更加密切地关注弹性地板供应链的有效性。Karndean的Anderson解释道:"成本在上升,供应链紧张,交货期非常不稳定。所有这些因素使得为零售商及其最终客户提供服务成为一项非常具有挑战性的任务。幸运的是,我们在全球LVT领域已经有近50年的历史,我们已经建立了非常强大的合作伙伴关系,我们发现这一点比以往任何时候都更加重要,以保持物料流动、降低成本和库存。"
Later in the year, container shortages and severe freight interruptions caused suppliers, distributors and retailers to take an even closer look at the efficacy of the resilient flooring supply chain. "Costs are going up, supply chains are stressed and lead times are very unstable," Karndean's Anderson explained. "All of these factors make servicing retailers and their ultimate end customers a very challenging task. Luckily for us, having been in the LVT arena for nearly 50 years around the globe, we have built very strong partnerships, which we are finding to be very important now more than ever to keep material moving, costs down and inventory on the shelf."
尽管面临挑战,但在2020年的整体弹性地板蛋糕中进口所占份额仍增长至81.5%,即53.91亿美元,而在2019年为78.1%。相应的,国产地板份额下降,仅占总美元的18.5%,即12.22亿美元,而在2019年为21.9%。这种增长可以用LVT SPC细分市场的繁荣来解释,这远远超过了2020年任何其他地板产品。
Despite challenges, imports grew as a piece of the overall resilient flooring pie in 2020 to 81.5%, or $5.391 billion, vs. 78.1% in 2019. Domestics then lost share and accounted for only 18.5% of total dollars, or $1.222 billion, vs. 21.9% in 2019. That growth can be explained by the boom in the SPC subsegment of LVT, which far outweighed any other flooring product in 2020.
一些供应商指出,尽管由于持续的供应问题和关税,定价可能有所提高,但大部分消费者并没有受到影响,甚至对不断上升的成本毫不在意。"有趣的是,我们去年发现,进入2021年,似乎没有价格敏感的感觉,"Mannington的Sheehan说:"我几乎会说,在消费者的世界里,价格不敏感。"
Some suppliers noted that while pricing may have increased due to ongoing supply issues and tariffs, consumers for the most part were unaffected—even unconcerned—by escalating costs. "What was interesting that we found last year and going into 2021 is there doesn't appear to be a sense of price sensitivity," Mannington's Sheehan said. "I would almost argue, in the world of consumers, there's price insensitivity."
相关阅读: