艺术家全宝(布仁额尔敦),内蒙古兴安盟科尔沁右翼前旗乌兰毛都草原,2021;
Artist Burenerdene(Quanbao),
Ulaan modiin Grassland, Horqin Right Wing Front Banner, Hyangan league, Inner Mongolia, 2021
草原上没有墓碑
我生长在内蒙古东部区科尔沁草原上的一座小城,这里是大兴安岭南麓的低山丘陵地带,曾经是传统而又典型的游牧类型地区,随着百年前的放垦和农耕移民的不断北移使牧业草场的面积逐渐缩小,取而代之的是大面积的农耕田地。
听父亲讲我们的祖辈是在一百多年前从西土默特草原的归化城(今内蒙古呼和浩特市)游牧到东土默特草原(今辽宁省朝阳市),然后再次迁徙到此定居的。在我十八岁去呼伦贝尔盟上学后才第一次见到了纯粹的牧业区。在大草原上天地宽广辽阔,穿着蒙古袍的牧民朴实内敛,还有他们说出的母语和歌声是那么柔美动听。
此后的三十年里我去了更大的城市生活工作,但我和朋友们会时常结伴去草原,体验草原上的辽阔无垠和自由自在,也渴望接触了解牧民的生活和感知他们的精神世界,这种喜爱或许就是大草原对生长在城市中游牧后裔的一种本能吸引吧!北方草原的气候复杂多变,一年四季有着不同的景色和境况,感受最深刻的是在冬季,整个草原被厚厚的积雪覆盖着天地一色风雪凛冽,置身其中会让你强烈的感受到人在大自然中的渺小!冬季的草原让我真切的体会到游牧民生存环境的艰辛与无常,也更多理解了游牧文明中精神信仰与民族性格形成的自然因素。
全宝(布仁额尔敦)《四季》,照片,内蒙古科尔沁右翼前旗,2017-2020;
Burenerdene(Quanbao) The Four Seasons, photo, Horqin Right Wing Front Banner, Hyangan league, Inner Mongolia, 2017-2020
在人类社会中任何一种文明的产生一定是与其生长的自然地理环境息息相关,游牧民族在与自然相处的千百年中逐渐形成了特有的生产生活方式和精神信仰,人们顺应自然的变化随着四季轮回不断的移动迁徙,以此来趋利避害获得人与牲畜的生存发展空间。游牧民信仰万物有灵,相信草原、牲畜和人都是自然中的一部分。草原滋养着牲畜,牲畜也平衡着草原的生长循环。人们饲养放牧牲畜使其得到更好的繁衍生息,牲畜也为人们提供皮毛保暖和肉奶饮食。人与牲畜在草原上相互依存和谐共生,人们崇敬自然、感恩自然,也懂得珍惜保护草原是游牧民的使命。游牧人信仰生命是自然之爱,草原和牲畜都是大自然赐给他们的珍贵礼物,面对万物生长人们欣喜珍爱,面对灾难与死亡人们也坚毅从容,人与牲畜在自然面前都是平等的生灵,而生命的消亡只是一次自然的回归。蒙古民族有句谚语大意是"牲畜踩食过的草场在春天还会生长出来,牲畜的白骨有一天也会回到草地之上"这是游牧人对自然中牧草枯荣牲畜生死等自然循环再生规律的朴素理解。
三年前我的额吉(母亲)去世了,我深深的体会到那种生离死别的痛楚与无奈!心中一直想做一件作品来表达我对母亲的思念和草原的热爱,2019年秋天我回到家乡,在草原上用牛奶作为原材料,经过传统的奶食品制作工艺制做了一颗等大的牛头骨,将她作为一份爱的"礼物"带回到工作室放在了自己的身边。时隔两年,我将这份"礼物"又带回到家乡将她放回在了那片草原之上,我想随着时间的流逝这份爱的"礼物"会慢慢消融重新回到大地之中。乳汁是圣洁的生命之爱,白骨意味着生命轮回的又一次开始,草原上没有墓碑,只有四季轮回留下时间的痕迹和自然之爱的生生不息。
全宝

(布仁额尔敦)

《礼物》,视频,1',

1920×1080,

内蒙古科尔沁右翼前旗乌兰毛都草原

,2019-2021;
Burenerdene(Quanbao)

Gift, Video, 1',

1920×1080,

Ulaan modiin Grassland, Horqin Right Wing Front Banner,

Hyangan league

, Inner Mongolia, 2019-2021
No Gravestone on the Prairie
I was born in a small city in Horqin Prairie in the east of Inner Mongolia. Located in the hilly area at the southern foot of the Greater Khingan Mountains, this place used to center on typical nomadic culture, but over the century

,

as the pasture land kept shrinking due to grazing and cultivation, as well as the northward movement of the farming population, it gave way to large farmlands.
According to my father,we are descendants of a group of nomads that moved from Guihua (present Hohhot, Inner Mongolia) in the West Tumd Prairie to the East Tumd Prairie (present Chaoyang, Liaoning) and finally settled down in this small city. I didn't see with my own eyes a real pasture land until I left my home to study in Hulun Buir League at the age of eighteen.On the prairie, both the sky and the earth looked much wider,the herdsmen, all in Mongolian robes, unsophisticated and quiet,talk and sing in their beautiful mother tongue.
It's thirty years since I left and settled down in big cities, but I prefer to go back to the prairie with my friends to enjoy fully the boundlessness and the extreme freedom there, as well as get closer to the herdsmen, their life and their inner world. It was probably my instinctive answer to the prairie's call as a descendant of nomadic tribes living in cities. The prairie in the north features complicated climate that varied a lot with seasons. Winter is the most impressive season.Covered in thick snow, the prairie stretches far into the distance in the bitter cold, where you can strongly feel our insignificance in nature. The wintry prairie, while touching me with the rough and unstable nomadic life, helps me to understand more deeply the role nature has played in the formation of the belief and the ethnic personality of the nomads.
Any civilization in human society was born of a certain natural environment. Over thousands of years in nature, nomads have developed their unique way of life and beliefs. In harmony with nature, they shift from one place to another as seasons change so as to make the most of nature and find room for themselves and their livestock to survive. The nomads believe in animism, considering the prairie, the livestock and people are all part of nature.The prairie provides for the livestock who in turn helps to maintain a balanced cycle of life there. People feed and graze the herds for their reproduction, and the herds provide people with furs, dairy, and food. Between man and the livestock there is mutual dependence and symbiosis. The nomads not only respect and feel grateful for nature but are also well aware that it is their mission to take good care of the prairie. Believing that life is an epitome of nature's life, they hold the prairie and the livestock as precious gift from nature. Rejoicing in prosperity,persevering and keeping calm in face of disaster and death, they consider livestock their peer in face of nature and equate death with a return to nature. There is a Mongolian saying to the effect that the livestock_trampled grassland will thrive again in spring and the bones of the dead livestock will come back to the prairie too,a down_to_earth understanding of the circle of life in nature.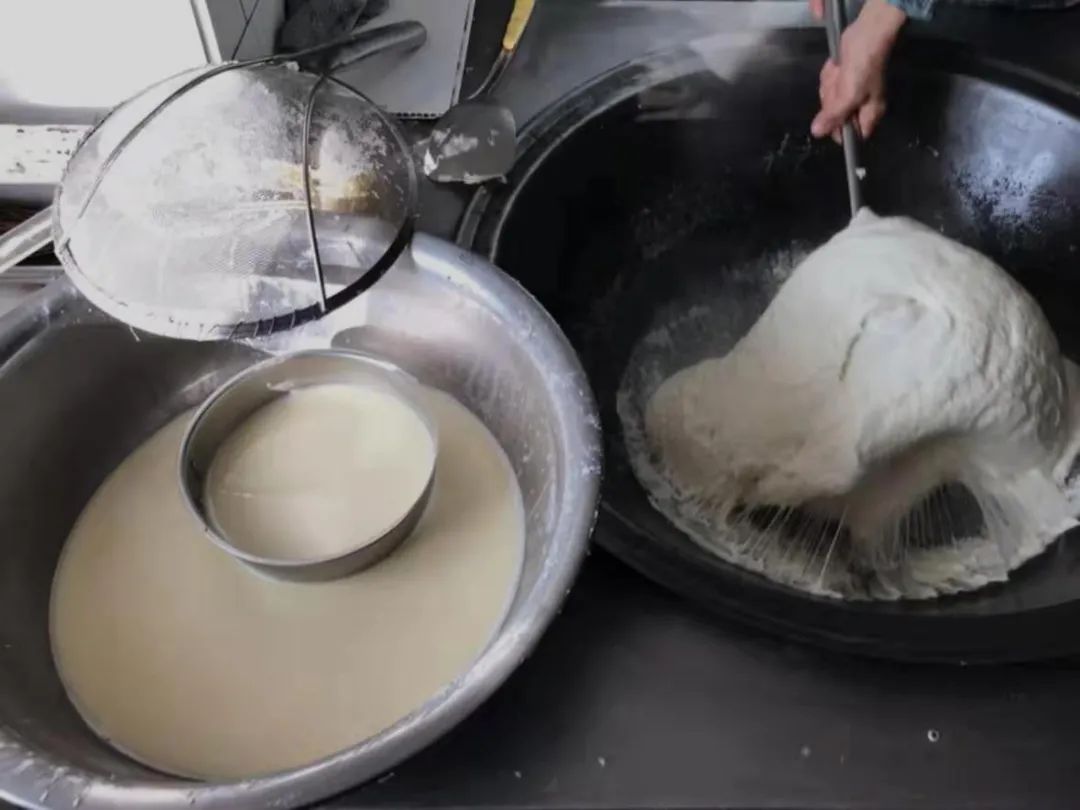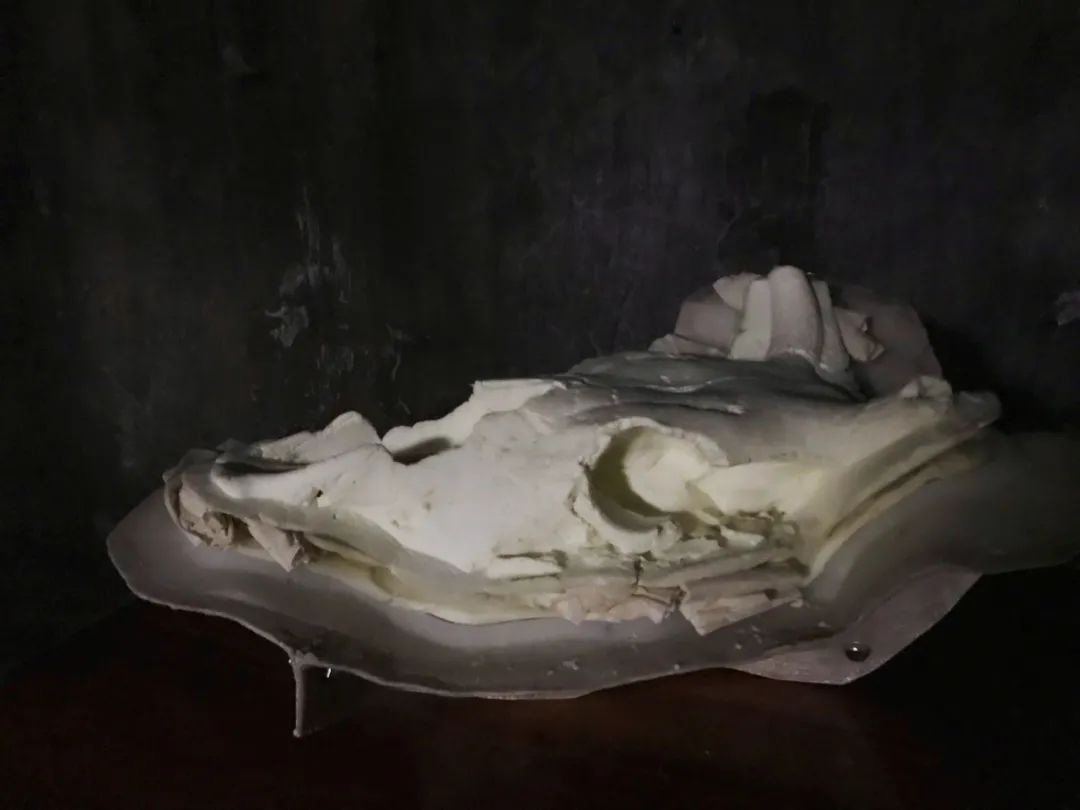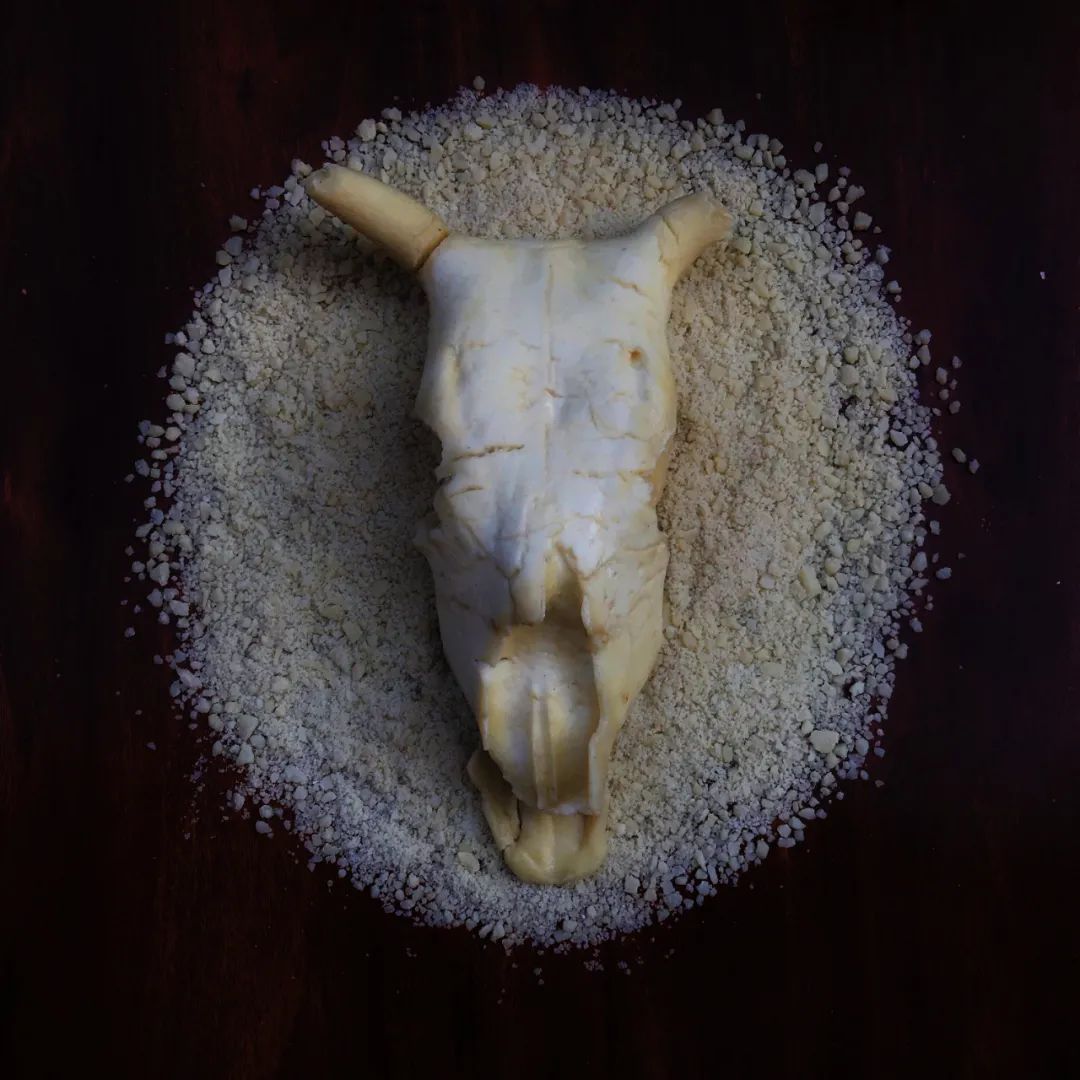 全宝

(布仁额尔敦)

《礼物》,雕塑

,

牛头等大,牛奶,

北京宋庄工作室

,2019;
Burenerdene(Quanbao)

Gift, sculpture

,

real size, milk,

Artist's studio in Beijing

, 2019
全宝

(布仁额尔敦)

《礼物》,雕塑

,

牛头等大,牛奶,

内蒙古科尔沁右翼前旗乌兰毛都草原,

2021;
Burenerdene(Quanbao)

Gift, sculpture

,

real size, milk, Ulaan modiin Grassland, Horqin Right Wing Front Banner,

Hyangan league

, Inner Mongolia, 2021
My Eji (mum in mongol) passed away three years ago, leaving me in deep sorrow and grief. I had been thinking about expressing in art how much I miss my mum and how much I was in love with the prairie.Then when I returned to my hometown in the autumn of 2019, with the milk from the prairie I made a life_size bull_skull in the way dairy products were made. I brought it back to my studio as a "gift" of love. Two years later,I took it back to my hometown again and put it on the prairie, in the hope that this "gift" of love could melt into the land with time elapsing. Milk stands for holy and pure love, and bones the beginning of another cycle of life. On the prairie there is no gravestone but the trace of time as seasons come and go as well as the everlasting love from nature.
---
全宝(布仁额尔敦),蒙古族,1973年生于内蒙古兴安盟乌兰浩特市。先后就读于内蒙古海拉尔师专美术系、东北师范大学美术系、中央美术学院壁画系,现生活工作于北京。作品多以绘画、综合材料、装置为媒介表达个体在自然与社会现实中的情感体验和思考。
主要个展 :全宝油画展,中央美术学院壁画系,北京,2001; " 一 一 " 李洁、全宝双个展,55 号院子艺术空间,北京,2014。
主要群展 :穿越之桥-中国与墨西哥当代艺术展,墨西哥总理府博物馆,墨西哥城,2019;韩 · 中美术交流展,韩国文化院,北京,2019;2000+当代中国艺术展,德国科学中心艺术馆,波恩,2018;纸上·至上,青岛天泰艺术中心,2018;跨越的疆图-蒙古·西藏当代艺术展,念者实验艺术空间,拉萨,2018;百年央美内蒙古校友作品展,内蒙古师范大学,呼和浩特,2018;苍穹之下-内蒙古当代艺术扫描,内蒙古美术馆,呼和浩特,2017;世界临终关怀与缓和医疗日-中国2016艺术行动,尤伦斯当代艺术中心,北京,2016;"NordArt2015"德国北部艺术区当代艺术展,比德尔斯多夫,2015;"2000+"中国当代艺术展,杜塞多夫市政厅艺术中心,杜塞尔多夫,2015;"当代中国",德国航空航天艺术中心,波恩,2013;" 当代中国",柏林中国文化中心,柏林,2011;"阿尔勒在北京草场地摄影季-新锐影像艺术展",北京,2010。
About Artist
Burenerdene (Quanbao) of Mongolian ethnicity, was born in 1973 in Hyangan league Ulanhot City, Inner Mongolia. He has studied in the Art Department of Hailar Teacher's School in Inner Mongolia, the Art Department of Northeast Normal University, and the Mural Painting Department of CAFA. He is now based in Beijing. His art, taking mainly the form of painting, comprehensive material and installation, expresses the sentiments and reflections individuals experience in nature and society.
Major solo exhibitions: Quanbao's Oil Painting Exhibition, Mural Painting Department of CAFA, Beijing, 2001; Double One: Li Jie and Quanbao's Double Solo Exhibition,No. 55 Art, Beijing, 2014.
Major group exhibitions: Crossing Bridge: Chinese and Mexican Contemporary Art Exhibition, Museum of the Mexican Presidency, Mexico City, 2019; South Korea and China Exchange Exhibition, Korean Cultural Center, Beijing, 2019; 2000 + Chinese Contemporary Art, Science Center Art Museum of Germany, Bonn, 2018; On Paper·Supreme, Qingdao Tentimes Mountain Art Center, 2018; Transcending Territories: Mongolia·Tibet Contemporary Art Exhibition, Scorching Sun Art Lab, Lhasa, 2018; Art by Mongolian Alumni of the Centenary CAFA,Inner Mongolia Normal University, Hohhot, 2018; Under the Sky_Contemporary Art Scan, Inner Mongolia Art Museum, Hohhot, 2017; World Hospice palliative Care Day - China 2016 Art Action,UCCA, Beijing, 2016; NordArt2015: Contemporary Art Exhibition or the German North Art Zone, Budelsdorf, 2015; 2000 + Chinese Contemporary Art, Dusseldorf Rathaus Art Center, Dusseldorf, 2015; Contemporary China, DLR Art Center, Bonn, 2013; Contemporary China, Chinesisches Kulturzentrum in Berlin, Berlin, 2011; Caochangdi Photospring 2011 · Arles in Beijing: New Video Art Exhibition, Beijing, 2010.
---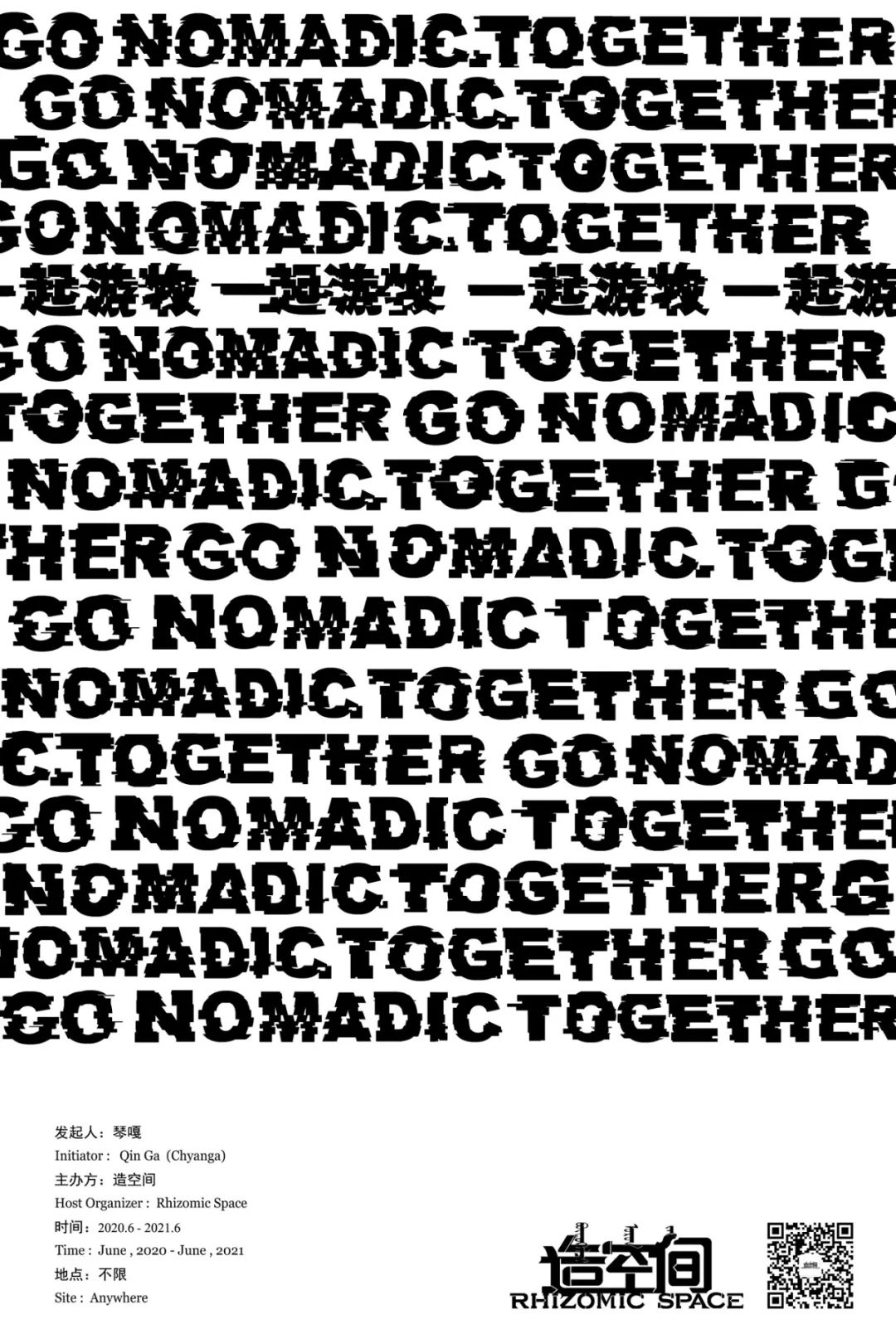 游牧,是传统游牧民的生产和生活方式形成的政治结构和生存机制。随着人类历史文化的演变,游牧作为一种文化形态,给世界提供了不同的文化视角。游牧的动态结构,不断地改变和跨越固化壁垒的边界。在全球化席卷世界的浪潮中,游牧的当代性已然浸入我们的日常生活,差异性价值的结构逐渐生成,呈现重构世界的雄心。
在个体的实践中,移动的肉身经验、感性觉知的方式,对于打破惯性认知模式尤为重要。游牧的当代性实践,涉及范围广泛,关乎历史、人文、自然、生活方式等相关讨论,每个人都有独特的体验和见解。通过此次艺术项目的聚焦,多元的个体行动事件汇聚在一起,探讨当代游牧结构的可能性和价值。
所邀请的艺术家,在不同的生活区域,自主选择时间和地点,进行具体的"游牧"行动与实践。媒介不限,无论绘画、雕塑、装置、行为、影像、声音、音乐、舞蹈等;实施地点,无论在草原、沙漠、山地、城市,亦或是虚拟世界。"一起游牧"是一次开放的"游牧"艺术实验,一次个案的集结和讨论。
---
Initiator: Qin Ga (Chyanga)

Time: June 2020 - June 2021

Host organizer: Rhizomic Space

Nomadism involves political structures and living mechanisms nomads formed over years in their production and life. Along with the evolution of human history and civilization, this pattern of culture has offered the world a different cultural perspective. With a dynamic structure, it is in an ongoing process of changing or crossing the established boundary. The contemporary aspect of nomadism, in the overwhelming context of globalization, has penetrated our daily life and led to structures with differentiated values, which may help to restructure the world.
To an individual, mobile physical experience and sense-based perception are very important in breaking the conventional cognitive pattern. The contemporary practice in nomadism covers a wide range, from history and culture to nature and life style, in which field, everyone has unique experience and understanding. This art project brings different individual events together to show the possible values of the contemporary nomadic structure.
The artists to be invited will choose freely when and where to carry out this "Nomad" project. Any medium is acceptable, including but not limited to painting, sculpture, installation, performance, video, sound, music, dance, etc. The place can be everywhere, no matter it is a prairie, a desert, a mountainous region, a city, or even the cyberspace. "Go Nomadic Together" is intended as an open "nomadic" art experiment and a collection of individual cases as well .
Poster Designer: Shirunee
Logo Designer: Chai Jiaqi
---
造空间是由艺术家琴嘎于2011年底创立的游牧空间,不设实体空间,搭建多元的组织方式,移动地选择社会性的公共空间,发起、策划实验性的艺术项目,探讨当代艺术在社会现场的蔓延,空间生产的意外性、临时性的结构、可持续生长的力,轮回的生命雕塑场。已经完成的艺术项目有"包装箱计划"(2012-2014),"一个梦想"(2012-2013),"红旗小学"(2014),"造事"系列(2013-2014),"一起飞-石节子村艺术实践计划"(2015-2020),"义工计划-百姓幼儿园"(2016-2017),"游牧计划"(2018、2019、2020、2021),目前正在进行的项目有"一起游牧"(2020-)。

Rhizomic Space, with no bricks or motar, is founded as a nomadic space by Qin Ga (Chyanga) at the end of 2011. Working through different channels and in different forms, it chooses social public spaces with mobility to launch and organize experimental art projects to explore the extension of contemporary art in social public places, the contingent aspect of space production, temporary structures, sustainable force, and the sculpture of transmigrated life. It has completed a series of projects, including "Packing Case Project", "One Dream Project", "Read Flag Primary School", "Make Waves",

"Fly Together: Shijiezi Village Art Practice

Project",

"Volunteering

Project:

People's

Kindergarten",

"NomadRelays Project"

,

"Go Nomadic Together Project "

is currently on show.
Instagram : rhizomicspace
---
所有文字、图片、视频版权归艺术家和造空间 Rhizomic Space 所有,转载必须和我们联系!