I started planetary imaging in 2005 using my home-built 222mm Dobsonian reflector which at that time was unguided. I let Jupiter drift through the field and recorded several drift videos with a Philips Toucam webcam.
I then combined them in Registax to create this first image.
我从2005年开始行星摄影,那时候用的是我自制的222mm道布森牛反,那时候还没有跟踪装置。所以我拍摄的时候,把木星挪到视场中,让他随着地球自转在视野里漂移,用飞利浦的网络摄像头拍摄木星视频。然后把视频放到Registax软件里叠加合成了我的第一张行星作品: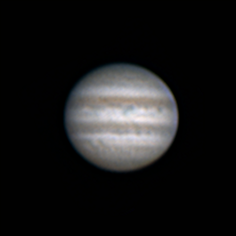 Later that year I built an equatorial tracking platform to improve my imaging of Mars, which was at opposition in Winter 2005/2006. For many years I used my 222mm Dob. for planetary imaging- learning many techniques and improving my methods.
那年晚些时候,我制作了一个赤道式的跟踪装置来提升拍摄效果。那年冬天正好是火星冲日。之后,我用222mm道布森望远镜拍行星拍了很多年,提升自己的技巧和方法。
You can see the improvement I made over the years in the following two images taken with exactly the same telescope but 7 years apart.
你从下面这两张照片可以看到我这7年来的进步。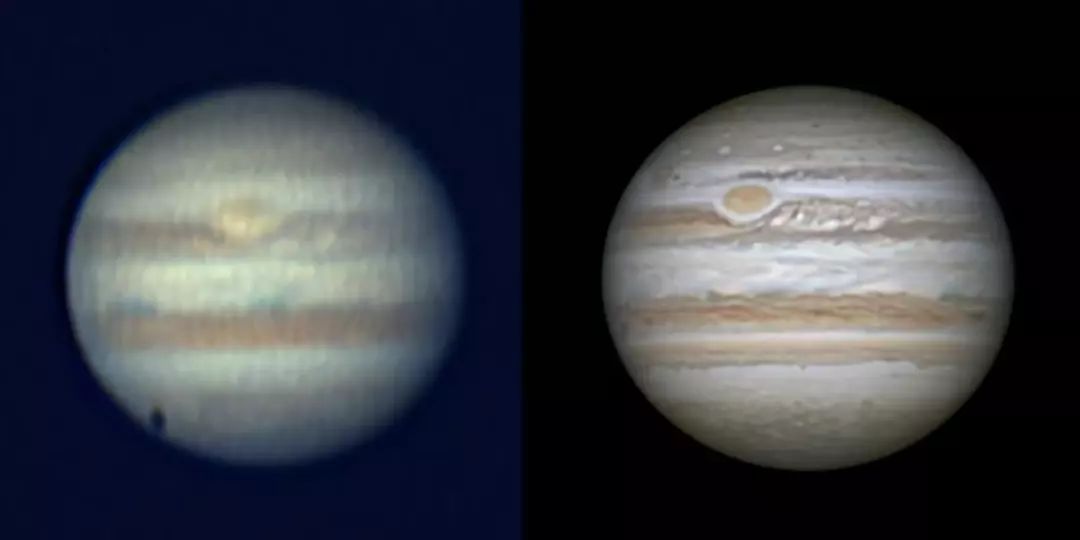 In 2013 I decided to try planetary imaging with my much larger home-built 444mm Dobsonian telescope which I named 'Fossil Light'. Up until then I had only used as this as visual instrument. I made an electric focuser for it and it worked out really well on the same equatorial platform that I originally built for the 222mm telescope. The extra aperture this bigger scope has given me has allowed me to push on even further with my planetary imaging as the image below shows from 2017.
2013年,我决定启用一台更大的444mm道布森望远镜来拍摄行星,我给这个望远镜起了个名字叫做:Fossil Light(小编不知如何翻译精准,欢迎文末留言)。在这之前,这台望远镜一直用于目视观测。为了拍摄方便,我还给这个望远镜做了一个电动调焦。然后把望远镜固定在之前做的那个赤道式跟踪平台上(就是之前给222mm望远镜用的那个跟踪平台)。这台口径更大的望远镜,让我的拍摄效果有了巨大的提升,下面是我在2017年拍摄的木星。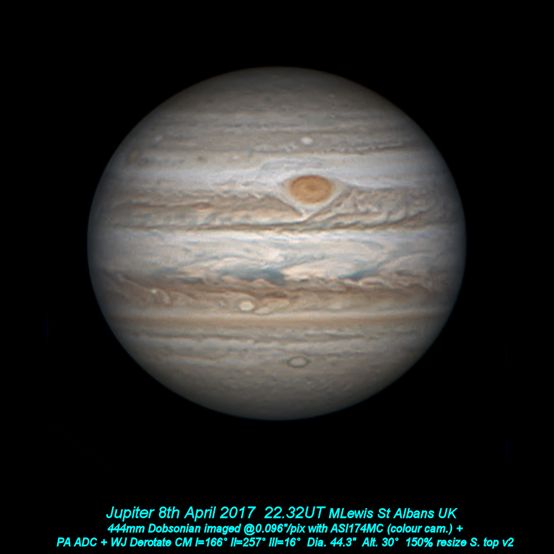 The bigger aperture has allowed me to try imaging the Ice Giants, Uranus and Neptune which are difficult in smaller telescopes because of their low surface brightness.

更大的口径让我能够更好的拍摄远日行星,尤其是天王星和海王星。这些行星在小口径望远镜下很难拍好,因为他们太暗了。